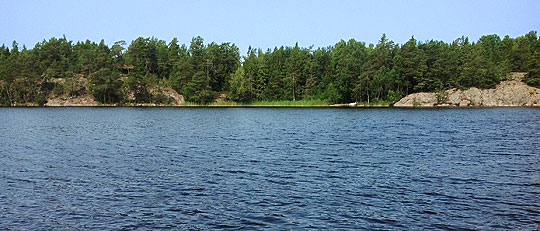 I took a walk this morning – down the road to the postboxes to pick up our morning newspaper. It was a pleasant, sunny 18 degrees C but the very brisk north wind made if feel cooler. On my way back to the house I took a short detour down to the lake. It was still early so there was no one there – I had the whole beach to myself. I waded out into the water, to just above my knees and stood there watching the fish swimming around my feet.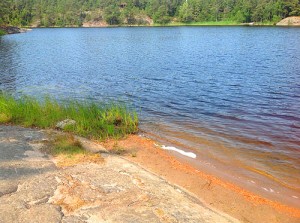 I like standing there in the chilly water. It makes my arthritic joints feel better. Small wind-driven wavelets lapped about my knees and I listened to the tree leaves rustling in the breeze, in waves of sound, punctuated by the cries of the various bird species that live here in our neck of the woods. This is summer. This is what vacation means to me. I stayed there for quite awhile.
Sometimes as we drive to the store from our house, we pass joggers. There they are, running along our country road with their ears stuffed with earplugs attached to their smart phones. I have no idea what they are listening to. Aside from being mildly dangerous – they can't hear cars coming from behind them – I can not understand why they would choose to cut themselves off from the all the sounds of Nature around them. I can't imagine how anything coming over the wire could possibly beat that.
I was never much of a nature-lover back in my previous life, back in New York City. And even when I first moved to Stockholm, I preferred the city to the country. But now I can sit back, on my deck, listening to the birds and the sounds the trees make in the breeze and just feel good. I like looking at the green color of the trees as they are silhouetted against the bright blue Swedish sky and think what a beautiful color combination that is. Whoever designed that combination should be very proud of themselves. Professor Buckley, the color teacher at Pratt, certainly would think so.