I'm sitting in a small one-bedroom guest apartment in Monroe Village, the independent living place that my mom moved to, two years ago. I'm here visiting her for 2 weeks with my husband and son.
Monroe Village is in the wilds of middle Jersey, a place where once all you saw were fields and fields of farmlands – corn fields, potato fields, vegetables and even dairy farms – a landscape that probably contributed to New Jersey being called the Garden State. Its February and still winter, one of the worst and snowiest in a very long time. Snow is still lying on the ground though the roads and walkways here are clear. We picked up our rental car upon landing at Newark airport. We knew we would need a car here in the land of turnpikes, highways and roads of all sorts. My husband drives, my son mans the Tom Tom and I sit in the back seat watching the landscape pass by my window.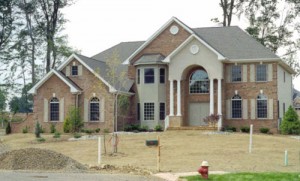 Everywhere we drive, the farms are being replaced by brand new housing developments. They are incredible to look at. The houses are huge! And the styles – a weird mix of fake stone fronts with vinyl siding on the sides and backs. Large fake Greek columns on the front porches. Steeped roofs sometimes with dormer windows. And did I say HUGE!? Who lives in these horrible homes of bad taste – the everyman mansions of our times. Families don't have 10 kids anymore. How much space do you need? I would love to visit a model home just to see what the insides of these monstrosities look like. But I don't really.
Spaced between the housing tracts are small white houses from the late 1800s or early 1900s with white clapboard siding and the classic American front porches. These houses sit right next to the highways. They were there first. Some have been lovingly renovated and others look like they haven't seen a coat of paint in 50 years. There are also strip malls scattered around, so named because they had to differentiate themselves from the large covered malls that also are around. Along the highways are small buildings of every sort, home to law firms, plumbing supplies stores, hairdressers, pizza parlors, ice cream shops, and all the other types of places necessary to give the locals the services they need to live here. This is my "home country" – not this neighborhood specifically but I grew up in NJ. But as we drive around, I feel like I am traveling through a completely alien country. As I walk around the local Stop and Shop supermarket I look at all the varieties of stuff to buy. What should I pick? What is good? What is the difference between brands? We have a lot of the same brands in Stockholm – Kellogs, Planters, General Mills, Liptons, Pepsi, on and on. But not the diversification. Does one need to have 40 different varieties of cold cuts? Not to mention the varieties of breakfast cereal. I feel like a Russian immigrant landing on the shores of American for the first time. And the TV! We don't have advanced cable in our little guest apartment, just the regular stuff. But its like a solid wall of sound. I can't filter it.
When I wrote on Facebook that I was heading to the States, I got a lot of "welcome home" messages, but I'm a stranger in a strange land. While I spend time with my mom, I'm waiting to return home, to Stockholm.