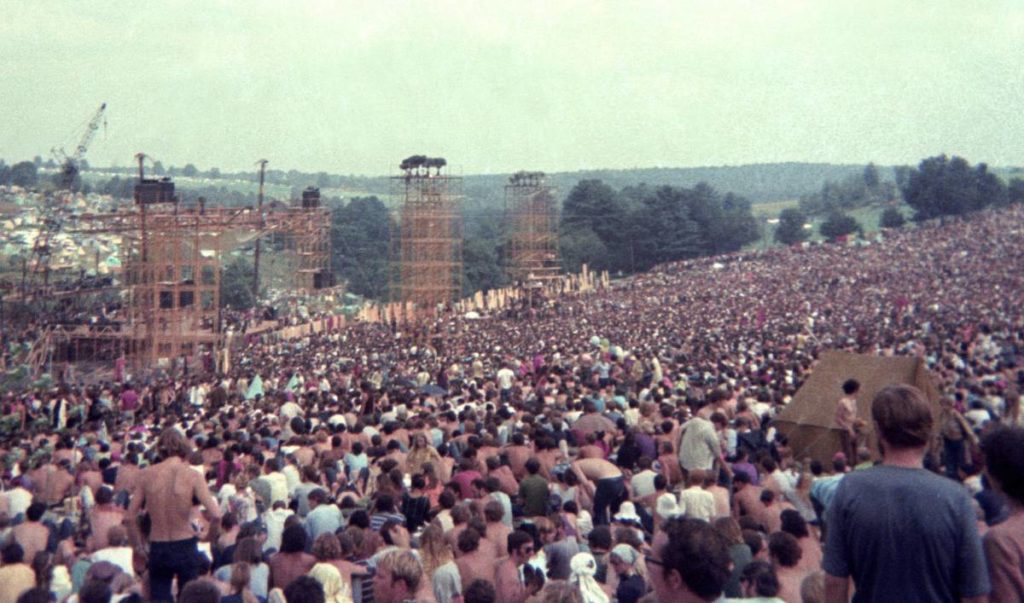 Back in the 60s, my baby boomer generation rode the interstate buses into the south to protest segregation in the southern states. My generation protested at the Democratic National Convention in Chicago and were met with the use of extreme violence by the Chicago police force. My generation stood up and called out shady backroom politics. We demonstrated for clean water and clean air. We toppled a dishonest president. We ended an unjust war. We wore our bell bottoms and we changed the world. We thought we had fixed things.
The word Boomer seems to have become a bad word lately, connoting all kinds of unpleasant things about my generation. By now we have gotten old, and people have forgotten what we did. 
I no longer live in New York, the city of my heart. I haven't lived there for over 30 years. I view America from afar. When I meet someone new and we spend a bit of time exchanging the Cliff Notes of our lives, I usually summarize myself by saying "I'm an old hippy". Perhaps this isn't completely honest. Though I went around braless, I never lived in a commune. I didn't practice free love and have sex with anyone who seemed interested. I attended a few peace marches but that was mainly because a boy I liked wanted to go. While I smoked pot on occasion I didn't spend my days in a daze. I didn't attend Woodstock. But I still feel I can nevertheless call myself an old hippy. That's how I identified back then when I was young, wearing long flowered skirts and sandals (in the summer) and my hair a wild curly mass…for a short period of time. Life is usually lived in short periods of time. We are something for a while and then we evolve. Inside we stay who we are. It's just our outside trappings that change. I gave up my patched bell bottomed jeans for mid-calf length flowy dresses that were replaced by broad-shouldered suits that became baggy-waist pants that turned into tunics over leggings. But I'm still me underneath.
I still love New York though I no longer belong there. I still love a good argument. I still believe people are fools, all of us, but we should at least be friendly and show consideration and respect. I still love science fiction and hate oysters. And while I believe in the equality of all human beings and their right to be able to live a decent life within a just system regardless of race or gender or social status or hairstyle or clothing choices, I still reserve the right to choose who I like and wish to be friends with. Though everybody is equal I have no desire to love everyone equally.
I read my electronic New York Times subscription from here in Stockholm. I read articles from CNN or the few stories I am allowed from the Washington Post without a paid subscription. I look at the things people share on Facebook and Twitter. And I get very scared. Black men get killed while jogging and a white woman threatens a black man with a bold-faced lie to the police about him endangering her. The only thing new about this is that they are being filmed, live as it is happening, like the reportage from the Vietnam war in the 60s and 70s. Synagogues are attacked. And churches. Men with military grade weaponry feel they have the right to threaten State capital buildings and the police just look on. Right wing fascists are rioting, burning buildings, reminding me of Kristallnacht in the 1930s, though this time it isn't specifically aimed at only Jewish citizens. But the purpose is the same – to create havoc, to tumble society. Demonstrators are marching again, protesting injustice. And like at Kent State, the police are firing on them. 
I read all this and it worries me, a lot. There is a vacuum in the place where the head of state of the USA should be. Instead there is a man totally unfit to be there, filled with anti everything that is good and decent and humane and sane. There is so much wrong with America now and once again it is all coming to the surface, into plain sight. My generation thought we fixed things. We had that hope at least. We obviously didn't. Hans Rosling, the Swedish academic, believed that statistically the world was improving for the majority of people. But the things that are still wrong in the world can't be fixed all in one fell swoop. Perhaps it is up to each generation to stand up and say "This is wrong" and demand change. Time to protest, time to demonstrate, time to march, time to stand up and be heard. Change for the better won't be able to happen until the current administration is voted out and its enablers in the Republican Party are also voted out.  
But right now, it's the 60s all over again, baby. The struggle is here once more. Put your bell bottoms on and start getting on with it. 
And just for a bit of memory and inspiration…My Generation by the Who.
Photo credit: The crowd on Day 1 of the Woodstock Festival on August 15, 1969. 
Clayton Call/Redferns