My Mini High School Reunion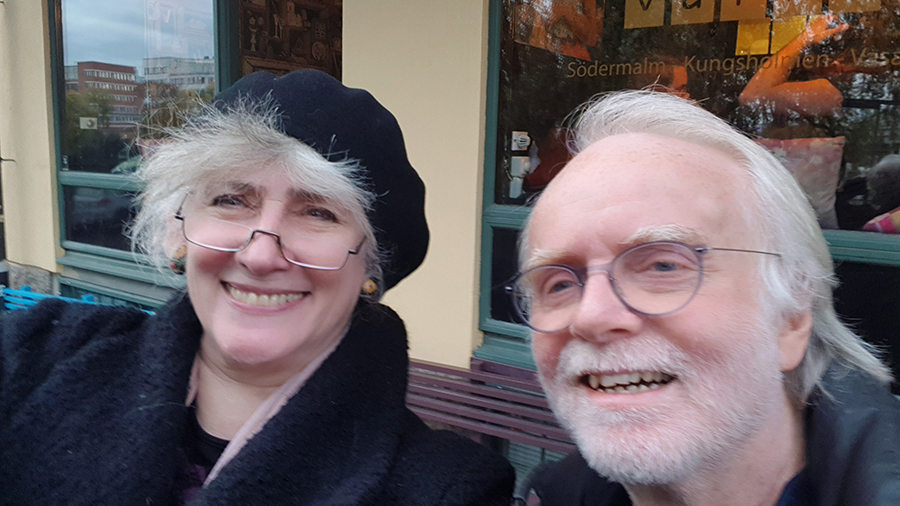 I graduated from high school fifty years ago! I find that hard to believe. It goes along with realizing that fifty years ago my generation went to Woodstock and fifty years ago human beings walked on the moon.
This past July, a group of fellow former seniors from West Morris Regional High School in northern New Jersey attended our class's 50th reunion. A reunion committee had spent almost a year planning the event and I admit to feeling a bit nostalgic as I kept getting planning updates. But I didn't go. I rarely travel back to the States during Swedish summer – my husband and I have a country house that the only time we can be there is in the summer.
Only fifteen years ago, the majority of my classmates had become just dusty memories from an old yearbook. The last time I actually met – in person – anyone from my New Jersey school days, was 40 years ago when I attended our tenth reunion. But now, many of my former schoolmates are friends on Facebook and even though I haven't met them in real life, I've seen pictures of their grandchildren.
A few years ago, I finally had the chance to unpack a load of books carted over here from New York City and never seen again in almost 30 years. My high school yearbooks were among them. Opening the books was a walk down memory lane. I discovered, much to my surprise, that my senior class had had an exchange student that year who came from Sweden! What a weird coincidence, I thought. I had not shared any classes with him so didn't really know him. I had a vague memory of sitting in at a talk he gave about Stockholm with slides showing pictures of the city but that was all.
Britta Jacobsen was a high school friend who had Swedish parents, something I gave little thought to, even when she came into school wearing the most unusual clogs with perforated white leather tops that she got on a trip back to visit her parent's homeland.  Her mother and brother eventually moved back to Sweden – but to the Gothenburg area, not to Stockholm, so we have not had a chance to meet. As part of the reunion planning committee, she messaged me last year, asking if I could try to track down our former Swedish exchange student, Lars Göran Thambert. Luckily, he had a rather unusual name and I was able to locate him on LinkedIn. I wrote to him there, explaining who I was and about the reunion. He never wrote back and I let it drop. I did however send his LinkedIn info to the reunion committee and Wayne Myers also sent him a message. This message landed just when Lars was on one of his rare visits there. He wrote back to Wayne and eventually made a video about himself that was shown at the reunion. Lars also discovered my letter to him and answered me. We exchanged a few emails and decided to get in touch and meet for Swedish Fika in Stockholm after the summer. I told him I would let him judge for himself how good my Swedish had become after living here for over 30 years.
We planned a date in the middle of October at my favorite cafe here on Södermalm near where I live. I wondered how I would recognize him, a person I never knew all those years ago but I took another look at the video he made to get an idea of what he looked like today. We exchanged phone numbers and I figured if we couldn't recognize each other we could call the other's phone and listen to see who in the cafe's phone was ringing. Modern times!
Its been along time since I've been on a blind date but I still remember that feeling of worrying if we would have anything to talk about. Lars had said in his video that he was an architect, so I figured conversation could flow no matter what. Back in high school, the two career paths I was considering were either Fashion Design or Architecture. I choose Fashion but after two years at Pratt, I switched to Commercial Art/Illustration. I had been scared of choosing architecture because I felt math and science were not really my thing. Once I got to Pratt, it turned out that many of the guys I became best friends with were from the architecture program anyway. And many of them told me that math and science were not their thing either. Go figure.
The day came and I sat myself down at a table in Vurma with my latte, a cardamon bulla and with my yearbook clearly visible.
I recognized him immediately as he came in the door and gave a wave. He ordered a sandwich and we started talking. We started off by looking though the yearbook, pointing out people who we had been friends with and just reminiscing about life in NJ all those years ago. He is still in touch with the family that hosted him back then. I told him about Art School. He told me about the architectural projects he has worked on here in Stockholm, some of them quite large projects. We both have had our own companies and agreed we like being able to choose who and what we work with. I told him my story about how I landed here. He told about his grandchildren and I told how I am still trying to get my grown son to move into his new apartment. We discussed art and architecture and design. The almost 3 hours flew by. I had to finally go home to make dinner for my family and he was about to meet his daughter to go to see an exhibit of furniture design. We said good bye, agreeing to keep in touch.
I am so glad I met Lars. It was a lovely afternoon. But more than that, knowing that there is someone here in my adopted homeland who shares a part of my long distant past is somehow comforting. The world is a big place and when you are young you never know where your life will take you. For some people the journey is not very far while for others like myself you end up a long way from where you thought you would be. And that just proves that in spite of its size, the world can be a very small place indeed.