Pecan Pie
Thanksgiving in the States has just ended and even Black Friday is almost over. Here in Stockholm, in my apartment, it hasn't happened yet but I've been getting ready. We do it on the Saturday following the 4th Thursday of November. Sweden doesn't give us the day off on Thursday so I always move it to Saturday. But the stores here have started holding Black Friday sales which I find sort of weird. I thought the point of Black Friday was that most people are free to shop till they drop but here its just an ordinary work day. I don't get it. Oh well, anything to sell more stuff.
As I said, I'm in final phase of Turkey-day prep. Most of the apartment is semi-clean. I have the stuffing-bread cubes all ready to use tomorrow. I've sauteed mushrooms and onions today in butter to add to the stuffing so I don't have to take the time tomorrow. Instead of the one large 8-kilo turkey I usually get, I had to buy two small 4-kilo birds because the store had a delivery glitch and they didn't have any big turkeys. No big turkeys!!?? Yes, this is definitely not Kansas anymore or any other part of the US of A for that matter. So my 2 puny birds are in the fridge waiting for me to butter them, stuff them and cook them tomorrow. The same goes for the sweet potatoes – tomorrow they will be boiled and then mashed and mixed with crushed pineapple. I don't do plain mashed potatoes – boring. While much of the food is still in prep-stage waiting to be finished off tomorrow, there is one thing that is complete – my pecan pie. I think most people associate Pumpkin Pie with Thanksgiving. Pecan Pie is just an also ran. But I love Pecan Pie! So to guarantee that I get to eat it on Thanksgiving I make it myself.
I posted this picture of this year's pie on Facebook and folks asked for my recipe so here it is:
Hilarie's Maple Syrup Pecan Pie (I found the recipe online but changed things so now its mine, right?)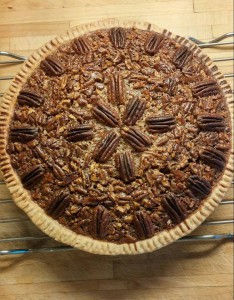 Pie shell
1 cup flour
6 tablespoons butter (or Swedish Bregott which is a butter/rapeseed oil combination)
1 tablespoon granulated sugar
1 teaspoon salt (dont need this if the butter is already salted)
1/4 cup cold water
Mix the flour, butter, sugar together with a pastry cutter till the mixture resembles coarse crumbs. Not having a pastry cutter, I start out with 2 knives held together to cut the flour and butter up a bit and then just get my hands into it and mush it around till its crumb-ish. Mix in the water till the whole mess forms a dough. Wrap it in plastic wrap and put in the fridge for about 20 minutes.
Make the filling
3 eggs
1 cup pure maple syrup
1/2 cup brown sugar firmly packed (I use the granulated, easy to pour stuff. Mainly because the other kind is harder to find here and if it sits too long in my house it gets hard as a rock)
2 tablespoons melted butter
1 teaspoon vanilla extract (the liquid stuff not that vanilla sugar you get here in Sweden)
2 cups pecan pieces (the recipe originally said only 1 cup but I like pecans in my pecan pie not just a lot of that gooey custardy stuff with some pecans floating on top so I doubled the amount of pecans)
In addition to the 2 cups of pecans save about 24 whole pecan halves to decorate the top of the pie with.
In a large bowl beat the eggs (I do it with a hand wisk) till they are a yellow mess. Add the maple syrup, brown sugar, melted butter and vanilla. Blend well. Then stir in the pecans. (I buy the already shelled pecans and then break them up into small pieces. Don't chop them up in a chopper. The pieces get too small. Use your fingers to break them in quarters or so. I don't use the full halves because if the pieces are too big its hard to cut the pie after its baked)
You can let the filling sit awhile while you make the crust. Its probably been about 20 minutes by now, so unless you are a really slow mixer, its now time to take the dough out of the fridge.
Roll out the dough on a lightly floured surface so that it fits your pie pan. My pie pan is a rather shallow one, 25 cm in diameter. Place your dough over the pan and drape it to fit. Using a knife, cut off the part of the dough that hangs over the outside edge. Since my pan has a narrow horizontal edge along the outside, I use a fork to "crimp" the edge. Look at the photo to see what I mean.
Once the pan is covered with the dough, pour the egg, syrup, sugar, pecan mix into it. Make sure the pecans are distributed evenly in the gooey liquid. Then take the pecan halves you've set aside and decorate the top, laying the pieces in a design on the top of the filling.
Carefully carry the pie to the oven. Bake it on the bottom shelf of the oven at about 350 degrees F or 185 degrees Celsius for about 30 or 40 minutes. It shouldn't still jiggle when you give the pan a gentle nudge.
When its done, take it out of the oven and let it cool. I put the pan on a metal rack so it cools all around. Easy peasy!!
Enjoy your Thanksgiving folks!