Minyan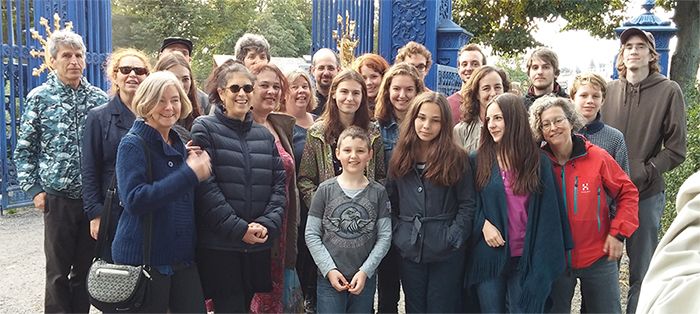 My minyan – a while back
---
A Minyan is the Hebrew word for a quorum of ten Jewish adults required for certain religious obligations. The most common activity requiring a minyan is public prayer.
According to the Orthodox view a Minyan requires 10 Jewish men to be official. The Reform movement says it only needs to be 10 Jewish adults, either male or female.  I'm on the side of the Reform movement and I feel I can be flexible as to the number 10.
Rosh Hashanah was just around the corner. This is the Jewish holiday celebrating the arrival of the Jewish New Year. It comes around just as the leaves start to change color every fall but it's not always on the same day in the ordinary calendar so it can be hard to keep track of, if you are not actually looking for it. Together with Yom Kippur, it is one of the most important of the Jewish holidays. It's usually celebrated with other Jews by going to synagogue, to pray together. When I was a kid, I would be dragged along by my parents to the relatively new Reform synagogue they were members of. In my early twenties, I would sometimes come home to visit my folks for Rosh Hashanah and spend the day with them in synagogue. After services, when we got home in the afternoon, we would eat dinner together. I never belonged to a congregation when I lived in New York – didn't seem to feel the need for it then – I had my family to be with.
The notion of family has always been important to me. In my twenties, I might not have wanted to admit that to myself. At that point in my life, it was friends that seemed to matter more. And… it wasn't like I came from a family that was all warm and encouraging and accepting, building self-confidence and creating harmony, kind and loving. No, my family was none of that, though occasionally, some of those things peeked out when the coast was clear.  We weren't a very big family, just my parents and me and my brother and my mom's brother and his wife and their kids and of course, Bertha, my maternal Grandmother. My family was a typical Jewish family, loud and noisy and opinionated and not too accomplished when it came to diplomatic skillsets. As my mother used to say about her mother, "Bertha always thought it was better to give a knock than a praise." Maybe that was good though. It made you strong – able to take it. It certainly didn't build self-confidence though. But you did learn to talk back and speak up….eventually. That was, after all, your only defense. So, family gatherings were often loud argumentative affairs with people talking all at once, no one listening, no one given the time to finish a sentence and often someone's feelings getting hurt and ending up crying in the bathroom. Those were the good gatherings. Sometimes, you just remained at the table, cowering, hoping no one noticed you. And no one ever said "I'm sorry."
But in spite of all this I still wanted to join our family get togethers, especially the big ones, Passover and Thanksgiving. Those holidays were celebrated either in my parent's home or my uncle and aunt's home. On smaller holidays such as Mother's Day, we would all meet up in New York City at Radio City Music Hall and see a show. Then we would drive down to Chinatown for dinner. When we were out in public we were more civilized; though I do remember an interesting argument between my grandmother and her son, my uncle, about how to use chopsticks. I remember sitting there, as others talked about what to order – always a lengthy process – watching the two of them; just waiting for the irritation to build up into an explosion. I really wanted to be sitting at a different table with other diners during that meal.
After us kids started to move out, live on our own, there were less and less gatherings. We still met for Passover and Thanksgiving though. I always took the bus from New York City home to New Jersey, to my folks or to my uncle and aunt's. But then, I moved to Stockholm and that was a lot longer than any bus ride could take me.
For the first few years I would return once a year – to join my family for Passover in the spring or Thanksgiving in the fall. They would catch me up on what they had been doing and I would tell tales of life in the foreign land called Sweden. In 1988 my cousin Karel hosted the family Passover gathering for the first time, in her small New York City apartment. She showed great bravery in doing that. Our grandmother, Bertha, insisted Karel could not host the Passover Seder because she was still unmarried. And Bertha insisted she would not come to it. Karel ultimately managed to squeeze a lot of people into that space. We weren't a very jolly bunch that year due to the fact that Grandma Bertha had died just three days prior to the event. The funeral had been the day before. So, we sat there, reading our Haggadahs and eating our chicken soup and matzah balls, feeling the lack of our Matriarch who had made us feel Jewish with her Yiddish accent. Luckily for us, my cousin had a two hour long video tape of an "interview" she had done with Grandma just six months earlier. We all sat and watched it while we drank our coffee and ate our flour-free desserts. "Why are you so late? What kind of jalopy are you driving?" were the first words out of Grandma's mouth when Karel walked in the door of her apartment. No hello. No how are you. No I'm glad to see you. In the following two hours, Bertha managed to say something uncomplimentary about every single person in that room. We all felt much better after that. Someone summed up the movie by saying, "Yep, that was Grandma."
The years passed and my son came along. I discovered there was a Jewish Center here in Stockholm and when my kid was a year old I started taking him there to a mother/toddler sing-a-long group once a week. I could speak Swedish by then, though fluent was not a word I would use to describe my skill. I learned to sing baby songs in Swedish. I had no idea they were also in English – well, maybe I recognized the Swedish version of Itsy Bitsy Spider. The older my kid got, the more I started to feel the need for family – Jewish family – on my side of the ocean. And I needed it in English – because Moses said "Let my people go". He didn't say "Släpp mitt folk". So in 1997 when my son was almost 6 years old, I put an ad in the American Woman's Club magazine saying I was looking for other American Jewish mothers to join me to celebrate Jewish holidays with our small kids. The 6 or 7 women who responded were women who I had met occasionally during the past few years at one thing or another. We always said we should get together but we never did.
Finally that fall, on a dreary grey day, we all met and celebrated Rosh Hashanah together. We started with Tashlich, the ceremony where we "cast our sins into the depths of the sea". Together with our kids, we walked down to a nearby lake and threw our bread crumbs, symbolizing our sins, into the water. Just as we were about to leave, the sun came out from behind the clouds and shined down on us. I couldn't have ordered better special effects. I figured God was giving us his approval. Back in my friend's house, we lit candles and said prayers over challah and apples dipped in honey and sweet red wine, in both English and Hebrew (I had to do some research for that). Then we ate chicken soup, and brisket and chicken with honeyed almonds and sweet noodle kugel and teiglach. All made from Jewish recipes we had to look up because most of us had never bothered to ask our bubbies how to make these dishes. It didn't matter. They were all wonderful.
That was 20 years ago and we have been meeting to celebrate the New Year and other holidays ever since. My baby boy is now a tall thin, 26 year old computer programmer with a full time job and I am retired. I named my group Jewish American Parents in Stockholm or J.A.P.S. for short. Through the years, we have joined together to read the Haggadah at Passover Seders. We baked tons of hamantaschen for Purim. We shared an amazing variety of latkes at Chanukah. We tasted cheese blintzes with hallonsylt at Shavuot. And at every holiday, I gathered our kids around me and watched as they pulled out objects relating to that particular holiday from the Holiday Bag; a Lego horse, a wooden apple half, a small portrait of a woman with a crown, a mini menorah, a draidle. I explained to them what each object they were holding stood for and what its significance to that particular holiday was and why we were even celebrating that holiday. (I have to thank Rabbi Google for all the help. I couldn't have done it without you)
We have also joined together for Bar Mitzvahs and Bat Mitzvahs and school graduation parties. We have consoled each other over dead or dying parents and have rejoiced with each other for birthdays and anniversaries. And we have eaten many, many more helpings of brisket at our cyclical celebrations of Rosh Hashanah. I had found my family. I had created a minyan – on this side of the airplane flight.
This past fall, the leaves were starting to turn color and it was Rosh Hashanah season once again. A few weeks earlier, Janet, one of my J.A.P.S. since the very beginning, texted me to ask what we were doing for Rosh Hashanah this year.  She was the only one who asked. I realized I didn't really have an answer for her. It wasn't like I didn't remember that it was coming up. It was sitting there in front of me like a giant sign on a highway in Kansas. But I just wasn't feeling very Rosh Hashanah-ish.
Every year I invite my J.A.P.S. to my place for Rosh Hashanah. I live right near water so that makes the bread crumb thing easy. People bring tons of food with them. We go down to the canal in front of my building and throw our sins out to the ducks who greedily eat them up. Then we trek back up to my apartment to say our now memorized blessings over the wine and candles and challah and apples. We eat and schmooze; until the food is done and it's time to go home. But this year, I didn't send out any emails asking who can come. I didn't tell people what time it would start or what food they should bring. My apartment was a mess and I had no desire to clean it for company. I just didn't feel like doing any of the organizing that I always did to make sure our get-togethers got together.
Throughout all the years we have been meeting, it's always been me who organizes each event. Regardless of what day the holiday falls on I decide for us to meet on a weekend. That usually helps to assure attendance. First, I send out SAVE THE DATE emails. Then I send out emails asking who can come. A few years ago I started sending the emails directly to the kids who have their own email addresses. They are now old enough to decide for themselves. Often I don't just ask. I coax and cajole and wheedle them into joining us. I feel it's important to get as many as possible to come. I organize the symbolic food we need to celebrate the holiday and the food we just eat and I suggest who should bring what, based on understanding of each individual's cooking skills. The Holiday Bag no longer appears – the teens started to revolt – so I stopped with that. And to be honest, I now have trouble remembering all that information I once taught them, so it's easier not to bother. So… mostly… now we just gather together with all our food, say the blessings and then we eat. (and schmooze of course. It wouldn't be Jewish if there wasn't a lot of talking) I know everyone has a great time and enjoys being with each other in spite of my bully tactics. And it's usually only at Passover that I get so over-stressed that I start yelling at people. Eventually some brave soul dares to take me by the arm and bring me over to a quiet corner to sit and calm down. But this Rosh Hashanah I was already really tired and I hadn't even started. I didn't have the energy to herd cats.
I don't think any of my J.A.P.S. are particularly Jewish in the sense of religious. They are like me – a pretty secular bunch. But over the years, many of them have said to me how glad they have been that we meet, that I organized these holiday events, that I taught their kids some Jewish knowledge. They appreciate and thank me for what I did for them! I try to respond modestly.  But the truth is I didn't do it for them at all.
I did it for me! I did it because I wanted a family here. I wanted a small community of English speaking Jews like myself to raise my child in, to be Jewish with. Hilary Clinton wrote "It takes a village" and I built myself a village. I finally understood the meaning of the concept of a minyan. It had nothing really to do with men – and the number 10 is simply an approximate tipping point for being able to build a community. The J.A.P.S. became my Minyan, comprised of Jews and Goys and our children, who I hope learned to feel Jewish because of what I did. I never bothered to count the number of Jewish heads.
But now what? My child is grown. He is as Jewish as I can make him. The members of my Minyan have also become my friends. So I ask myself, "Do I still need a Minyan and how big does it have to be?" Maybe the real question is, "Does my Minyan need me?"
Back in the states, my parents are gone. My Uncle and Aunt are over 80 and not up to having big family events at their home. Some of my cousins have taken over the task of family gatherings, at least for Passover and Thanksgiving. Not being there, I don't know more than what Facebook tells me as to what other sorts of family shindigs get organized.
At this point in my life I can do pretty much anything I want. So what is it I want? Probably what I always wanted – to be wanted, to feel needed and to feel part of a community.
So instead of the usual big gathering we were just a few. I made a big batch of honeyed chicken and rice. Janet came over with a bag of salad. Her boys came too. Risa came by because she called at the right time. She brought brownies. And Evelin, another of our youngsters dropped by at the last minute. We blessed apples and honey. We ate Challah that Håkan baked. We sat and ate wherever there was room in my messy living room. And as I sat there with the others,  I decided that my Minyan was just the right size.