Giving Thanks

Thanksgiving had always been one of my favorite family holidays. There would be lots of food; everyone talked at once; someone would argue with someone; someone would leave the table in tears. This was accepted as normal and might be repeated each year. I missed those family gatherings. So when I moved to Sweden, I decided that I would roast a turkey and try to celebrate Thanksgiving even though my original family lived far away. The idea of giving thanks was less important to me than the idea of family gathering together.
In spite of the fact that large turkeys have not always been that easy to get a hold of in this country and when you finally find one, it's extremely expensive, I intended to invite friends who have become like family, to our place to share a bird and all the fixings with me. Since everyone here worked on Thanksgiving day, we would gather on Saturday instead of Thursday.  The first few years it was only Håkan and me eating the small turkey I might manage to find. As I settled in to life in Stockholm and our circle of friends expanded, the number of invited guests grew.
My first large turkey weighed 11 kilos (24 lbs). I had to order it in advance from a shop that specialized in eatable fowl of all sorts. The man behind the counter asked me how large I wanted my big bird to be and when he saw the uncertain expression on my face he suggested 11 kilos. My unfamiliarity with the metric system meant that I was unable to judge how big 11 kilos was. The number 11 was smaller than the number 25 which was around the size in pounds that my mother's turkeys often were so I said yes. When I went back the next week to pick up my turkey, I discovered just how heavy an 11 kilo bird was as I schelepped it back home with me on the subway. It barely fit in my ancient oven. Four invited guests, two of whom were also American, shared that bird with me and my husband. We had leftovers for 6 months.
Despite that rather shaky beginning, I roasted a turkey each year. Sometimes in the early years when our apartment was small, my husband and I might drive a large, roasted, warm and well wrapped turkey to a friend's house to share at their more spacious dining table with a large group of our mutual friends.
As our apartment grew larger, so too has the number of people whom we have room for. Our open-plan living room fits two tables and 15 chairs. I would order an 8 kilo bird at the Stockholm store that specializes in turkey products. When they stopped offering such large turkeys I ordered them from a farmer who raised a small flock of free range turkeys. He even delivered them directly to my door! I always ordered one around 8 kilos. One year he appeared at my door very apologetic, saying that that year the birds had grown rather large and was it OK if the bird he was delivering was just under 9 kilos. By that time I had a new oven and 9 kilos fit just fine.
Only twice have I missed my annual ritual.
I served no turkey in 1991. Our son was born in November that year and with one thing and another, as new parents, making a turkey and having guests took a back seat. I have no memory of what we ate that year. There was no big dinner party in 2014 either because that was the year that my husband got sick. After spending 2 months in hospital, Håkan was allowed home for the weekend at the end of November and Bevin, Håkan and I were finally together to eat the boneless turkey thighs I made at the last minute. With sweet potatoes and gravy and much thankfulness.
And now this year there is the Covid 19 pandemic. All our friends are staying safe at home so there will be no large gathering at our place to eat turkey with us. But turkey must be eaten. I bought a frozen 5 and a half kilo turkey when my husband and I spent some time at our country house and put it in the freezer there. On Wednesday, we packed up the car with all our laundry, left-over food, 2 cats in their cages and ourselves and drove back to town. As I loaded the apartment fridge with the left-overs I realized we forgot the turkey! We drove back out to get it two days later but this meant it was never going to defrost in time for Thanksgiving Saturday. No matter. It wasn't like I had invited a crowd of friends over and now needed to rearrange plans with a lot of people. This year our only guest was our son, who had moved out to his own apartment 6 months earlier… and he was flexible.
So on a Tuesday evening, the week after the official Thanksgiving day, the three of us sat down to a table loaded with turkey, stuffing, mashed sweet potatoes, gravy, corn, salad, cranberry sauce, and a pecan pie for dessert. As I finished putting everything on the table and stood at the refrigerator to take out a bottle of Julmust, I stopped for a moment and looked over at the well laden table and my two boys loading their plates and gave thanks that my little family could all be together, healthy, safe, and able to share this meal with each other.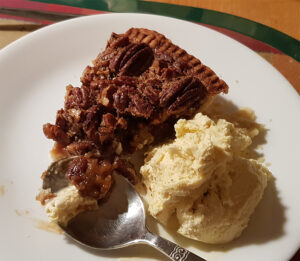 PS…I make a great Pecan Pie, served with a scoop of vanilla ice cream.